Search for books from Vincent Borrelli, Bookseller Advanced Search
Search 1,992 books from this seller
Spotlight book from Vincent Borrelli, Bookseller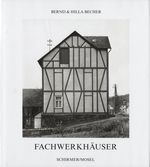 New in New jacket. 1977/2000. Second German edition (the first edition was published by Schirmer/Mosel in 1977). Signed in pencil on the front end paper by Bernd Becher and Hilla Becher. Hardcover. Cloth, with dust jacket. Unpaginated with 350 duotone plates. 9-3/4 x 8-3/4 inches. New in New dust jacket (opened only for signature). From the publisher: "In the Siegen area east of Cologne, one of the world's oldest iron-producing regions, the use of wood for building purposes was regulated since ...
Featured books from Vincent Borrelli, Bookseller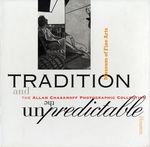 by
Chasanoff, Allan, Aletti, Vince, Traub, Charles H., Tucker, Anne W., Arbus, Diane, Avedon, Richard, Brassaï, Callahan, Harry...
$168.00
New. No dust jacket as issued. First edition, first printing. Boxed set of loose cards and two soft-cover volumes. Photographs by numerous artists, including Diane Arbus, Richard Avedon, Brassaï, Harry Callahan, Lee Friedlander, Emmet Gowin, Jan Groover, Michael Kenna, Sally Mann, Richard Misrach, Man Ray, Andres Serrano, Aaron Siskind, Frederick Sommer, Josef Sudek, Francesca Woodman, and Joel-Peter Witkin. Texts by Charles H. Traub and Anne W. Tucker. Interview with Allan Chasanoff by Vince ...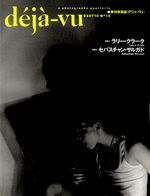 by
Clark, Larry, Salgado, Sebastiao
$140.00
New. No dust jacket as issued. First edition, first printing. Soft cover. Photographically illustrated stiff wrappers (published only in wraps). Photographs by Larry Clark and Sebastiao Salgado. Text in Japanese and English. 170 pp., with numerous illustrations. 11-3/4 x 9 inches. Out of print. Scarce. New in publisher's shrink-wrap. A Mint copy. An exceptional Japanese quarterly on contemporary photography, exquisitely printed and designed, now discontinued. Includes an 87-page feature ...
---
Larry Clark: Tulsa, Limited Edition (With Gelatin Silver Print)

Edition: 1st Edition Binding: Hardcover Publisher: Grove Press, New York Date published: 2000 ISBN-13: 9780802116789 ISBN: 0802116787

Description: New. No dust jacket as issued. PLEASE NOTE: Due to the explicit nature of some of the content, you must be at least eighteen years of age to order this item. First edition thus (Grove Press). Limited slipcased edition of 250 numbered copies, signed by Clark, with an original previously unpublished 8 x 10-inch black-and-white gelatin silver print (also numbered and signed by Clark on verso in pencil, print edition 250). Hardcover. Black cloth with silver stamped spine, in black cloth slipcase; ... Read More

Tony Oursler (Edizioni Charta)

Edition: 1st Edition Binding: Softcover Publisher: Edizioni Charta, Milano (Milan) Date published: 1998 ISBN-13: 9788881581689 ISBN: 888158168X

Description: Fine. No dust jacket as issued. First edition, first printing. Soft cover. Photographically illustrated stiff wrappers; no dust jacket as issued. Installations by Tony Oursler. Edited by Simona Lodi. Texts (in Italian and English) by Simona Lodi and Tony Oursler. Includes exhibition history and bibliography. 64 pp. with numerous black and white and four-color illustrations. 10-1/2 x 8-1/4 inches. Fine. Read More

Thomas Ruff (Centre National De La Photographie)

Edition: 1st Edition Binding: Softcover Publisher: Centre National de la Photographie and Actes Sud, Paris and Arles Date published: 1997 ISBN-13: 9782867541124 ISBN: 2867541123

Description: New. No dust jacket as issued. First edition, first printing. Soft cover. Illustrated stiff wrappers; no dust jacket as issued. Photographs by Thomas Ruff. Text and interview with Thomas Ruff (in English and French) by Régis Durand. Includes a biography. 96 pp. with 35 four-color and 24 black-and-white illustrations. 10-1/2 x 8-1/4 inches. New in publisher's shrink-wrap. Published on the occasion of the 1997 exhibition Thomas Ruff at the Centre National de la Photographie, Paris. Read More

Ed Ruscha: Gunpowder and Stains

Language: German Edition: 1st Edition Binding: Hardcover Publisher: Verlag der Buchhandlung Walther König, Köln (Cologne) Date published: 2000 ISBN-13: 9783883754314 ISBN: 3883754315

Description: Fine. No dust jacket as issued. First edition, first printing. Hardcover. Photographically illustrated laminated paper-covered boards, no dust jacket as issued. Paintings by Ed Ruscha. Edited by Philomene Magers. Includes texts (in English and German) by Thomas Demand and Diedrich Diederichsen and biographical notes, including a detailed bibliography of artist's books by Ruscha (with publication dates, edition sizes, etc). 80 pp., with 22 four-color plates. 8 x 10-1/4 inches. This first ... Read More

Andres Serrano: Body and Soul, Portfolio

Edition: 1st Edition Binding: Boxed Set Publisher: Edizioni L'Archivolto, Milano (Milan) Date published: 1996 ISBN-13: 9788876850820 ISBN: 8876850821

Description: New. No dust jacket as issued. First edition, first printing. Boxed set of loose cards. Photographs by Andres Serrano. Texts (in English and Italian) by Lanfranco Colombo, Roberto Pinto and Marzio Tremaglia. Includes biographical notes, exhibition history and bibliography. 32 four-color plates individually printed on cards. 8-1/2 x 10-3/4 inches. Published on the occasion of the exhibition Andres Serrano, Body and Soul, at the Diaframma Gallery in Milan. This first Italian edition was limited ... Read More

Frederick Sommer: All Children Are Ambassadors / Alle Kinder Sind Botschffer

Edition: 1st Edition Binding: Hardcover Publisher: Nazraeli Press, Tucson, Arizona and München Date published: 1992 ISBN-13: 9783923922086 ISBN: 3923922086

Description: New. No dust jacket as issued. First edition, first printing. Hardcover. Dos-a-dos binding, with paper-covered boards bound back-to-back (one with accompanying English text, the other with German text); no dust jacket as issued; contained in a paper slipcase. Photographs by Frederick Sommer. 48 pp. with 30 four-color and duotone plates. 5-1/2 x 7 inches. This first edition was limited to 2000 copies. Out of print. New in publisher's shrink-wrap. From the publisher: "Considered by many to be ... Read More

Venus, Jupiter & Mars: the Photographs of Frederick Sommer

Edition: 1st Edition Binding: Softcover Publisher: Delaware Art Museum, Wilmington, Delaware Date published: 1980 ISBN-13: 9780936594002 ISBN: 0936594004

Description: New. No dust jacket as issued. First edition, first printing. Soft cover. Photographically illustrated stiff wrappers with gray end papers (published only in wraps); no dust jacket as issued. Photographs by Frederick Sommer. Edited and introduction by John Weiss. Essays by Jonathan Williams, Roberta Hellman and Marvin Hoshino. Includes an illustrated, 16-page exhibition checklist. 69 pp. with 24 black-and-white reproductions. 11 x 11 inches. This first edition was limited to 3500 copies. Out ... Read More

Thomas Struth: Portraits (First German Edition, Schirmer/Mosel) [Signed]

Edition: 1st Edition Binding: Hardcover Publisher: Schirmer/Mosel Verlag, München Date published: 1997 ISBN-13: 9783888142628 ISBN: 3888142628

Description: New in New jacket. First edition (German), first printing. Signed in pencil on the half-title page by Struth. Hardcover. Navy blue cloth-covered boards with title blind-stamped and stamped in yellow on front cover and spine, with photographically illustrated dust jacket. Photographs by Thomas Struth. Edited by the Stiftung Niedersachsen (Foundation of Lower Saxony). Texts (in German) by Norman Bryson, Benjamin H.D. Buchloh and Thomas Weski. 192 pp. with 88 four-color and duotone plates. 12 x 9 ... Read More

Joel-Peter Witkin: Gods of Earth and Heaven (Second Edition)

Edition: 2nd Edition Binding: Hardcover Publisher: Twelvetrees Press, Altadena, California Date published: 1991 ISBN-13: 9780942642391 ISBN: 0942642392

Description: New in New jacket. Second edition. Hardcover. Fine black cloth-covered boards, with title stamped in gilt on spine and cross design stamped in silver on front cover, with black end papers and printed dust jacket. Photographs and drawings by Joel-Peter Witkin. Essays by Gus Blaisdell and John Yau, Afterword by Joel-Peter Witkin. Includes exhibition history and bibliography. 124 pp. with 52 two-and four-color plates on a matte coated paper stock. 13-1/4 x 10-1/4 inches. This second edition was ... Read More
---