Why Shop at Alibris
Alibris is the premiere marketplace for Books, Music and Movies. We have been in business since 1998 and have connected millions of buyers with thousands of Independent Sellers from across the world. Shopping at Alibris means that you are directly supporting local and independent sellers. We also offer a 100% satisfaction guarantee, simple and affordable shipping, and the largest selection of books in the world. Read on for more information and helpful hints on how to get the best out of the Alibris experience.
When you shop at Alibris you are supporting thousands of Independent Sellers around the world. The Alibris Marketplace unites Sellers from your hometown and the four corners of the globe. Not only are you supporting local and independent Sellers, you will also find the world's largest selection of new and used Books, Music and Movies.
We make it easy for you to choose the right Seller! We highlight the Seller's location and ranking in each listing on our product pages. All of our Sellers are required to maintain strict codes of service, to help ensure that your satisfaction is high — whether you're ordering from a neighborhood bookstore in Paris, France, or a corner bookshop in Paris, Kentucky.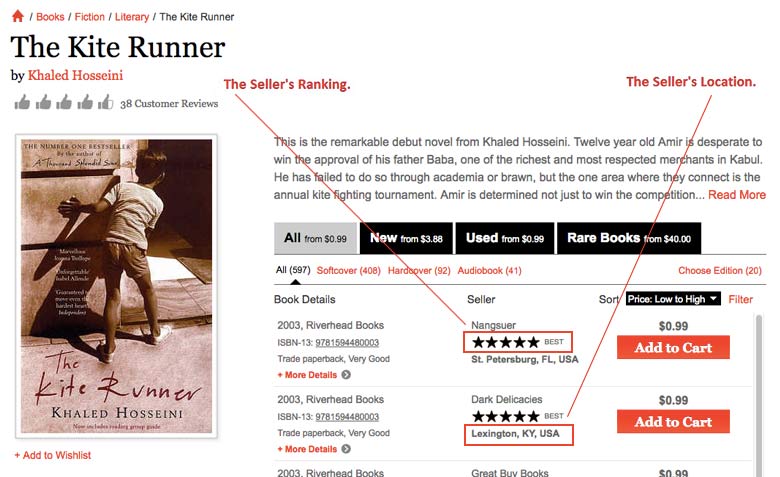 To ensure a great experience we highly recommend buying from the highest ranked Sellers and picking a Seller that is close to your shipping location. We also recommend that buyers stay away from Sellers who do not have at least a four star rating on Alibris. Many of our Sellers have their own Seller Storefronts which you can reach by clicking on their Seller name. Our Seller Storefronts will provide even more information on that Seller, including reviews from other Alibris customers. If you have a questions about a specific item we also make it easy for you to communicate with Sellers via email.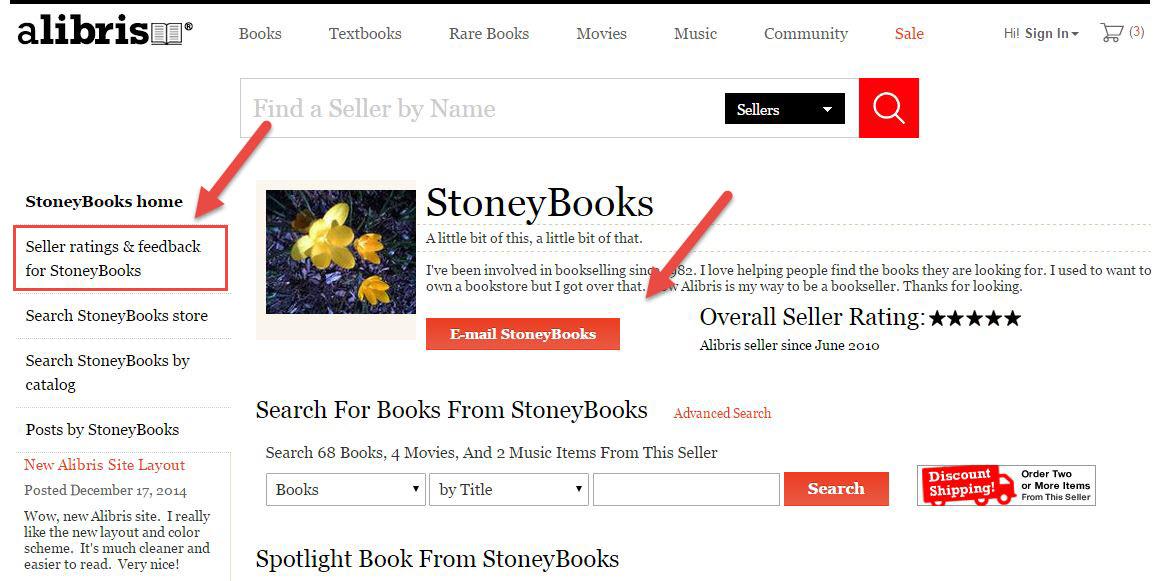 If you want to become an Independent Seller yourself please visit our Seller Portal for more information and sign up! We would love to have you join the Alibris family.
At Alibris we have an unparalleled selection of books being offered for sale from our Independent Sellers around the globe. You'll find new, used, out-of-print, and hard-to-find books in our stock of over 200 million items. From textbooks to rare and collectable, and everything in between, you'll be able to track down just about any book through our Advanced Search option. We also offer a comprehensive inventory of music and movies—whether you're looking for a popular CD, a collectible record, or the latest Blu Ray for entertaining the kids.
The listing of each item will have tabs for New, Used, Rare and even Rental copies if they are available. From there you will also be able to select the desired binding for a book, and media format for music and movies. You will also be able to sort the results by price, condition, release date, and even a Seller's proximity to your location.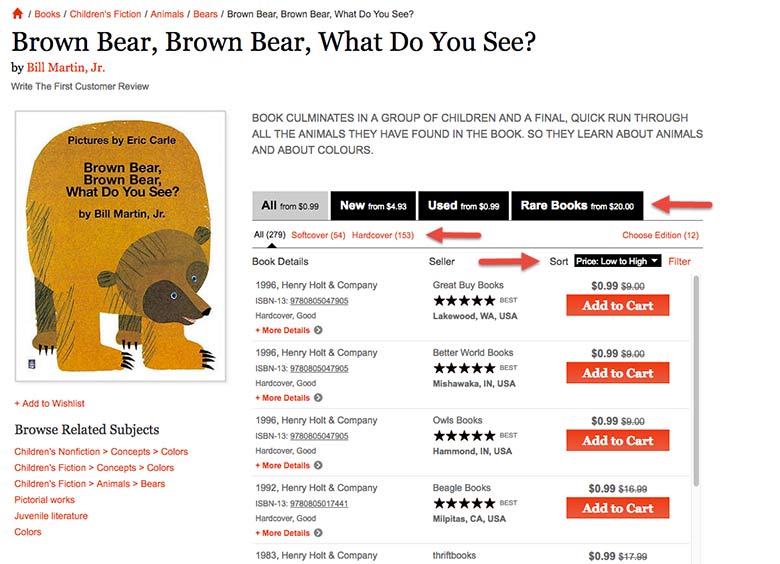 Please be advised that used items can have a variety of different conditions ranging from Fine / Like New all the way to Poor. To understand each used condition rating please see our Condition Guidelines.
Buy with confidence! Alibris guarantees your purchase will arrive in the condition described on our website or you can return it for a full refund. We want you to be satisfied with all your orders. If you need help with a return, please follow the instructions here or contact our support team.
Our Client Services team is ready and willing to help out around the clock! Send us an email if you have a question or concern and we'll get back to you generally within 24 hours. We also have a full list of Help options with details and answers right on the site for all the simplest questions, from creating an account to leaving feedback after you're well pleased with your order! Visit the Alibris Help Home Page.
At Alibris, protecting your information is fundamental to our success. Your security is our top priority. We use Secure Socket Layer (SSL) technology to encrypt all your personal information. Alibris keeps your payment information safe; and we never share your billing details with the Sellers fulfilling your orders. Should unauthorized or fraudulent use ever occur on Alibris, you're protected by our 100% Secure Shopping Guarantee.
Alibris takes the guesswork out of shipping costs. Whether you're ordering a heavy biology textbook or a light, paperback bestseller, you'll pay a flat shipping rate per item. Our flat rate policy applies on items shipping from Alibris as well as items shipping from our independent Sellers.
Many Sellers have opted in to offering expedited shipping options for those last minute orders that must arrive on time. And, of course, all items listed by our own Alibris warehouse always offer various shipping options, including Trackable Expedited, Two Day and One Day Air. You can view an item's available shipping options by viewing the item's details on our product page.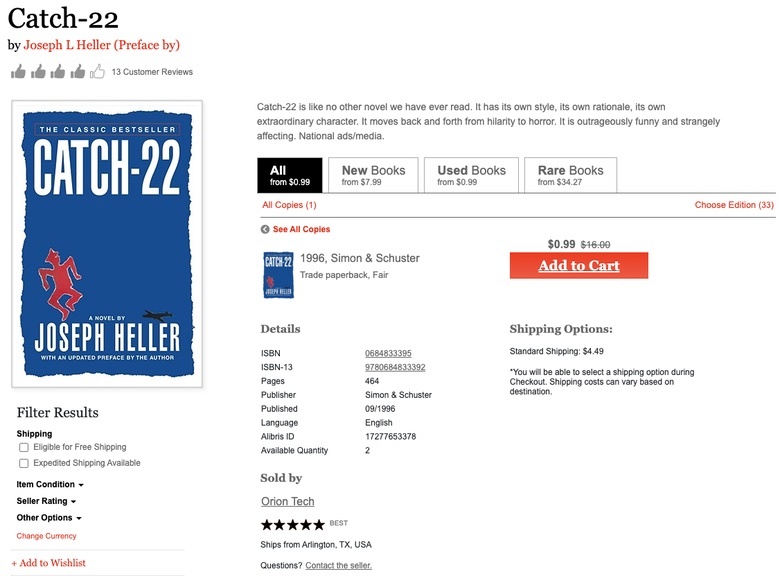 Shipping options for each item can be chosen during the checkout process after the shipping and payment information has been entered.
Ordering multiple titles? Consolidated shipping discounts are a great way to save when shipping to any U.S. address. You'll automatically get a shipping discount when you select two or more items from the same Seller. Just click the name of any seller to access their Seller Store. Then, search their inventory for other titles of interest and add them to your cart. Your discount will be applied at checkout.
Want Free Shipping to any U.S. address? Alibris offers an incredible variety of titles that will ship for free! Just select $39 or more of eligible items marked with our Super Value Shipping truck

. To find items that are eligible for free shipping you can use the search box here or click the "Eligible for Free Shipping" checkout on our category pages.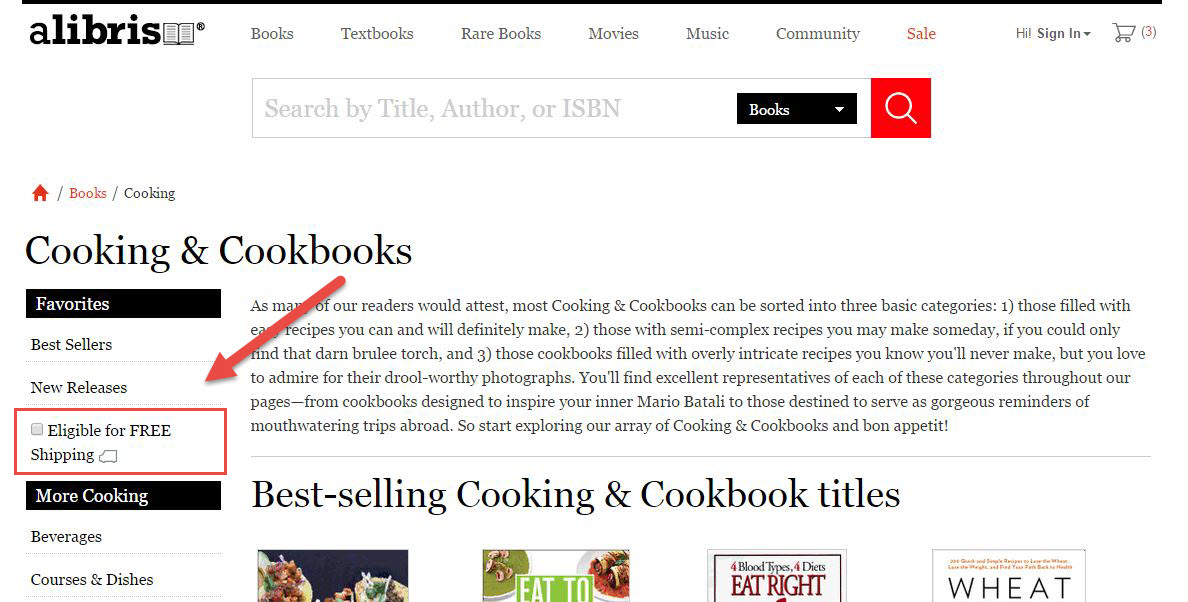 For complete details including delivery estimates, rush shipping methods, rates, and discounts, please see our detailed Shipping Information help page.