Kayleighbug Books
We specialize in Science Fiction, Fantasy, Horror & Mystery
Selling New and Used Science Fiction, Fantasy, and Horror online since 1998. 25+ years as a 5-star seller. Member IOBA
E-mail Kayleighbug Books
Overall Seller Rating:
Alibris seller since July 2001
---
Search for books from Kayleighbug Books Advanced Search
Search 11,144 books, 647 movies, and 749 music items from this seller
Spotlight book from Kayleighbug Books
New. Size: 7x5x0; New/Sealed. The Force is back, and young readers can relive the movie event of the decade (if not the century) with this collector's edition of the Star Wars Episode I: The Phantom Menace junior novelization. Bestselling author Patricia C. Wrede has captured the epic story of Star Wars: Episode I, based on George Lucas's screenplay, in this exciting novelization. A galaxy is threatened, a young Jedi is found, dormant evil rises again, and new truths are discovered, and it's ...
Featured books from Kayleighbug Books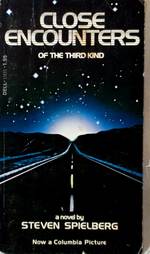 by
Spielberg, Steven
$2.28
Good. Size: 6x4x0; 0440114330 256 p.; 18 cm. First Dell printing. Earth's greatest adventure had begun. The world was being readied for...Close Encounters of the Third Kind. Novelization of the ground-breaking Spielberg movie.
by
Shwartz, Susan
$2.28
Good. Size: 6x4x1; spine creasing, edge wear; 338 p. An interplanetary war threatens to destroy humanity until a small group of people embarks on Project Seedcorn. On a distant planet, this small group of refugees depends on the children for life.
---
Binding: Mass Market Paperback Publisher: AvonNova Date published: 1991 ISBN-13: 9780380762897 ISBN: 0380762897

Description: Good. Size: 6x4x1; spine creasing, light edge wear; In the Georgia backwoods stands a magnificent estate-its inhabitants the possessors of awesome powers passed on from generation to generation. Local residents look upon those who dwell within with respect and fear...trusting their fortune and their future to the mysterious master of Cardalba. Read More

Binding: Mass Market Paperback Publisher: Avon Books Date published: 1998 ISBN-13: 9780380797264 ISBN: 0380797267

Description: Very Good. Size: 4x0x7; light edge wear; 277 pages; Sam Gunn has a nose for trouble, money and women--though not necessarily in that order. He's a hero without peer...or scruples; a man with the ego and stature of a Napoleon, the business acumen of a P.T. Barnum, and the raging hormones of a newly pubescent teenage boy. He's Sam Gunn, the finest astronaut NASA ever trained...and dumped. But more than money, more than women, Sam Gunn loves justice! (Though he does dearly love women and money. ) ... Read More

My Cup Runneth Over: the Life of Angelica Cookson Potts

Edition: Simon Pulse edition Binding: Mass Market Paperback Publisher: Simon Pulse Date published: 2005 ISBN-13: 9781416905219 ISBN: 1416905219

Description: Near Fine. 1416905219 192 p. Angelica Cookson Potts has the most divine life: Divine friends. Divine family. Divine housekeeper (who makes the most looovely custard tarts). True, her friends can be so perfect it hurts, and her mother is an annoyingly skinny ex-model type. But they are all so delightful that Angel forgives them their ''perfections. '' What is not so delightful is that Angel feels like a big wobbly whale whenever she is around said friends, family, and custard-tart creator. And ... Read More

Binding: Mass Market Paperback Publisher: HarperEntertainment Date published: 1998 ISBN-13: 9780061056246 ISBN: 0061056243

Description: Good. Size: 6x4x0; 288 p. X-Files #5; edge wear; crease in front cover; A novel based on the Emmy Award-winning television series created by Chris Carter. When a disease-ravaged body is found in the smoldering ruins of the federally funded DyMar genetic research lab, Agents Fox Mulder and Dana Scully fear that a deadly, man-made plague is on the loose. As the FBI agents investigating the ''X-Files''? cases the bureau has deemed unsolvable? Mulder and Scully pursue the truth wherever it leads, ... Read More

Binding: Mass Market Paperback Publisher: Tor Books Date published: 1984 ISBN-13: 9780812552508 ISBN: 0812552504

Description: Good. Size: 6x4x1; 0812552504 320 p. faint spine crease, some edge wear. Matt and Kate must battle the forces of evil to save Anna, who has been betrayed by an evil alchemist into sacrificing herself to the horned god Cernunnos. Read More

Undead and Unpopular (Queen Betsy #5)

Edition: First Edition Binding: Hardcover Publisher: Berkley Sensation Hardcover Date published: 2006 ISBN-13: 9780425210291 ISBN: 0425210294

Description: Very Good in Near Fine jacket. Size: 88x16x133; slight edge wear, some foxing to top page ends. Vampire Queen Betsy Taylor already has plenty on her plate. For one thing, next week is her birthday--the big 3-1 in human years, and one in undead years. (Yes, she bit the dust on her birthday last year. ) On top of that, she still has wedding plans to finalize--and it? s not helping that the prospective groom is avoiding anything to do with it. And then there? s her decision to stop drinking blood ... Read More

Danse Macabre (Anita Blake #14)

Edition: First Edition Binding: Hardcover Publisher: Berkley Books Date published: 2006 ISBN-13: 9780425207970 ISBN: 0425207978

Description: Very Good in Very Good jacket. Size: 6x1x9; first edition, first printing; ''It was the middle of November. I was supposed to be out jogging, but instead I was sitting at my breakfast table talking about men, sex, werewolves, vampires, and that thing that most unmarried but sexually active women fear most...'' Read More

Edition: First Edition Binding: Hardcover Publisher: Candlewick Date published: 2006 ISBN-13: 9780763629519 ISBN: 0763629510

Description: Near Fine in Near Fine jacket. Size: 7x5x1; It's the start of summer vacation, and fifteen-year-old Richard has discovered that a family has taken up residence in the usually deserted Wish House. Richard is intrigued by both the house and the bohemian family now living there. The father, Jethro Dalton, is an internationally renowned painter; his seemingly licentious wife is fascinated by herbs and cures. But it's their beautiful and vibrant daughter, Clio, the muse for Jethro's paintings, who ... Read More

Guardians of the West (the Malloreon #1)

Binding: Mass Market Paperback Publisher: Del Rey Date published: 1988 ISBN-13: 9780345352668 ISBN: 0345352661

Description: Good. Size: 4x1x7; spine creasing, some edge wear; A sequel to THE BELGARIAD, Garion has slain the evil God Torak, and fulfilled the prophecy. But suddenly another prophecy is foretold. Again a great evil is brewing in the East. And again Garion finds himself caught between two ancient Prophecies, with the fate of the world resting on him.... Read More
---