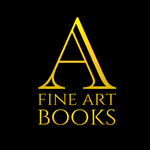 Amatoria Fine Art Books
We specialize in fine art, antiquarian, and collectibles, including photography, architecture, California Art, exhibit catalogs, and more. All items professionally packed with recycled materials whenever possible. Feel free to reach out with questions.
Amatoria has a 40-year legacy in Sacramento with 15k books on the arts. A woman-artist-owned brick & mortar supporting local creative economy by providing scarce, out-of-print books, original art, prints, and ephemera.
E-mail Amatoria Fine Art Books
Overall Seller Rating:
Alibris seller since December 2020
---
Search for books from Amatoria Fine Art Books Advanced Search
Search 998 books from this seller
Spotlight book from Amatoria Fine Art Books
Near Fine. Very Good, 4to, 11 3/4" x 9 1/2." Trilingual text in English, German, and French. Yellow paper wrappers with color illustration on front. Black and green lettering to spine. Covers have slight shelf wear, slightly bumped tips, light all-over rubbing, else clean and intact, binding tight. Pages have slight shelf wear and slightly bumped tips, else clean and intact. Profusely illustrated; 142 color illustrations. A catalog published on the occasion of an exhibition. Niki de Saint ...
Featured books from Amatoria Fine Art Books
by
Yoshikatsu Tamekane Et Al
$70.00
Fine in Fine jacket. A Fine book in a Fine dust jacket, SIGNED, First Edition, First Printing, 8vo, 9" x 7." Bilingual text in Japanese hiragana and English. White, glossy paper-covered boards in a white paper dust jacket. Color illustration on front panel of one of the artist's prints. Black lettering to dust jacket spine. Covers pristine and intact, binding tight, sharp tips. Dust jacket protected in a paper-backed mylar sleeve. Dust jacket has minuscule age toning, else pristine and intact. ...
by
Natsoulas, John
$45.00
Very Good in none as issued jacket. Very Good in glossy black-and-white staple-bound wraps, black text to cover, 11" x 8 1/2". Catalog published in conjunction with the fourth annual Thirty Ceramic Sculptors show featuring thirty-two ceramic sculptors held at the Natsoulas/Novelozo Gallery in Davis, California April 6 to May 3, 1990. 40pp. including a Foreword by John Natsoulas and a short bio with accompanying literary quote for each artist in the exhibition. From the Foreword: "We have ...
---
French Scenic Wallpaper 1795-1865 (Langue Anglaise)

Edition: revised Binding: Hardcover Publisher: Flammarion Date published: 2001-07-03 ISBN-13: 9782080136848 ISBN: 2080136844

Description: Fine in Fine jacket. Size: 12x10x1; (Paris: Flammarion and the Musee Des Arts decoratifs, 2000) Forward by Yvonne Brunhammer, Preface by Jean-Pierre Seguin. Revised and updated English language edition ISBN 2-08023-684-4. Folio, 12 1/4" x 11, " Navy cloth over boards, blind-stamped title to spine, Profusely illustrated in color and black and white. 335 pp. Appendices: 1. Woodblock Printing Techniques 2. Geographical Distribution of Scenic Wallpapers in Europe 3. The Manufacturers 3. Scenic ... Read More

Fonts & Logos: Font Analysis, Logotype Design, Typography, Type Comparison

Edition: First Edition Binding: Hardcover Publisher: Delphi Publications Date published: 1999 ISBN-13: 9780967331607 ISBN: 0967331609

Description: Near Fine in Near Fine jacket. Size: 12x9x1; 1st edition blue dust jacket with white lettering and gatefold wraps, black cloth over boards, gilt lettering and blind stamped front panel and gilt title to spine, SIGNED by the author on endpaper to artist Betty Nelson, "To Betty, for the love of the letter, 2001, " signed again in pencil at back, 385 pp., including index. A consummate book on the history and practice of typography with 377 fonts illustrated and deconstructed, includes discussion ... Read More

Edition: First Edition Binding: Softcover Publisher: Beacon Press Date published: 1982 ISBN-13: 9780807066492 ISBN: 0807066494

Description: Very Good. Size: 8x5x0; Very Good, First Edition, First Printing, SIGNED, fo, 15 1/2" x 11 1/4." White and yellow paper with color illustrations on front and back. Black lettering to spine. Covers have bumped tips, some rubbing, light scratch marks, and faint dampstaining on back, else clean and intact, binding tight. Internally Fine, pages clean and bright. Price list with "Corita" printed at top laid in. Beautiful catalog almost entirely composed of full-page illustrations of Corita's ... Read More

Anxious Interiors: an Exhibition of Tableau Photography and Sculpture

Edition: First Edition Binding: Softcover Publisher: Laguna Beach Museum of Art Date published: 1984 ISBN-13: 9780940872059 ISBN: 0940872056

Description: Very Good. Size: 0x0x0; Very Good, First Edition, 8vo, 11" x 8 1/2." Purple, gray, and white paper wrappers. Purple and white spine with white lettering. Covers are rubbed, have slightly bumped tips, and surface chipping along spine, else clean and intact. Pages clean and unmarked. Profusely illustrated in black-and-white and color. Illustrations are of the artists' works. 96 pp., including illustrations. Catalog for a group exhibition at the Laguna Beach Museum of Art from January 6-February ... Read More

Personal Vision: the Schulman Collection of 20th Century American Art; the Jewish Museum, New York, July 2-October 6, 1985

Binding: Softcover Publisher: The Jewish Museum, New York Date published: 1985 ISBN-13: 9780873340335 ISBN: 0873340337

Description: Very Good. Size: 7x5x1; Very Good, 4to, 8 1/2" x 8 1/2." White paper wrappers with color illustration on front. Slight rubbing and tiny marks to covers, slightly bumped tips, sticker ghost to front, else clean and intact, binding tight. Pages pristine and intact. Includes illustrations in black-and-white and color. 40 pp., including illustrations. Catalog accompanying an exhibition that showed from July 2-October 6, 1985 at the Jewish Museum in New York. Exhibition featured artworks from the ... Read More

Edition: First Edition Binding: Softcover Publisher: The Friends of Photography Date published: 1982 ISBN-13: 9780933286320 ISBN: 0933286325

Description: Very Good. Size: 11x0x0; Very Good, First Edition, 4to, 11 3/4" x 11 3/4." Glossy black paper wrappers with staple binding. Black-and-white printed photograph on front cover. No lettering to spine. Covers have slightly bumped tips and a few surface marks, else clean and intact, binding tight. Pages pristine and intact, replete with black-and-white printed photographs of a variety of subjects. 48 pp., including printed photographs. A photographic catalog with the theme of the contact print. ... Read More

Brett Weston: Photographs From Five Decades; an Aperature Monograph

Binding: Hardcover Publisher: Aperature, Inc Date published: 1980 ISBN-13: 9780893810658 ISBN: 0893810657

Description: Fine in Near Fine jacket. Size: 13x12x0; Fine book in a Near Fine dust jacket, fo, 13 3/4" x 12." Brown cloth-covered boards in a light gray dust jacket with a black-and-white photograph on front panel. Light gray spine with black lettering. Covers pristine and intact, sharp tips, binding tight. Dust jacket has slight wrinkling at tips and wear along top edge, else clean and intact, not price-clipped. Replete with black-and-white printed photographs. Pages pristine and intact. 131 pp., ... Read More

John Register: Persistent Observer

Binding: Hardcover Publisher: San Jose Museum of Art; Woodwood Press Date published: 1998 ISBN-13: 9780942627503 ISBN: 0942627504

Description: Fine in Fine jacket. Size: 11x11x1; Fine book in a Fine dust jacket, 4to, 11 3/4" x 11 1/4." Light gray cloth-covered boards in a pictorial dust jacket. Gilt lettering to front cover and spine of book. White and dark gray lettering on gray dust jacket spine. Covers pristine and intact, sharp tips, binding tight. Dust jacket has light rubbing and a few minuscule wrinkles at the edges, else clean and unmarked. Pages pristine and intact. Replete with color illustrations of Register's work. ... Read More

Faust; With Eighteen Lithographs By Eugene Delacroix; With a New Introduction By Michael Marqusee

Binding: Softcover Publisher: Paddington Press Ltd.; Grosset & Dunlap Date published: 1977-10-01 ISBN-13: 9780448221847 ISBN: 0448221845

Description: Very Good. Size: 8x5x0; Very Good, 8vo, 8 1/2" x 11." Purple and yellow pictorial paper wrappers with black-and-white illustration on front. Yellow lettering on purple spine. Covers clean and intact except for slightly bumped tips, slight edge wear, minimal rubbing, and lightly sunned spine. Pages clean and intact. 173 pp., including 18 black-and-white illustrations by Eugene Delacroix. The classic tragedy by Johann Wolfgang von Goethe. Read More
---