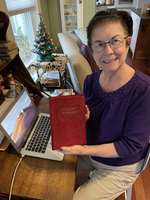 Lititz Nana - Promotion Queen
I sell used books - many first editions and collectible books; children's vintage,(also newer books) novels (vintage and newer), historical books, educational books, cookbook's (vintage and newer) sports (vintage and newer), biographical books, magazines, etc.!! I have in my store right now - favorites - many Christmas related!! I also like to have promotions - right now 20% off my Books!!!
I began selling used books as a hobby online when my husband went to heaven (12 years ago) because he had a substantial number of books in his library - mostly by Christian Authors. Then I remembered we had older books in our attic that were his father's and grandfathers (who were avid reader's and some were autographed by the authors - which increases their value! I enjoy listing these books, plus children's books, cookbooks and novels (old and new)!! This is fun for me and helps to add to my income! I used to sell under Lititz Nana, but because I like to offer promotions frequently, I now am Lititz Nana - Promotion Queen! Check out my inventory right now, I have my books 20% off!! Have fun!!!
E-mail Lititz Nana - Promotion Queen
Overall Seller Rating:
Alibris seller since September 2021
---
Search for books from Lititz Nana - Promotion Queen Advanced Search
Search 3,793 books from this seller
Spotlight book from Lititz Nana - Promotion Queen
Very good. Copyright 1949, All Occasion Book Publication, First Edition, Pop-up Book, this pictorial cover has Santa and children dancing around a Christmas Tree, the cover is in good condition, the pop-ups are all in working order, this is a very cute Christmas Book, the pages are clean and unmarked (except for a gift inscription to previous owner) with wonderful colorful illustrations by William Kemp Tilley and great pop-ups, this has a plastic comb binding, a good copy! Thank you for ...
Featured books from Lititz Nana - Promotion Queen
by
Many Authors
$25.60
Fair. Includes illustrations. copyright-non given circa 1870-1890, this pictorial hardback (220 Mammoth Series), has a paste down showing Mother at door with two children welcoming a little girl delivering a basket of goodies. this book is unpagenated and a compilation of stories and poems with b/w illustrations throughout, some stories included are: The Christmas Tree, Charles-A Merry Christmas, Grandpa"-A Dream of Santa Claus, George Bennet-Hector the Boaster, from the French "With Eight ...
by
Charles Walter Brown
$20.80
Reader copy. No copyright given, circa 1900, M.A. Donohue & Co. pub., Santa Claus' Visit Series No. 150, -St. Nicholas' Visit (same book) Edited by Charles Walter Brown, A.M., Profusely Illustrated in black and white, this pictorial hardback (different than shown-santa with his bag of toys at fireplace) has wear around edges and previous owner's name inside back cover, the pages are clean and unmarked with many stories and poems, (unpaginated and tanning with a few small tears at edges, ...
---
Edition: Reprint Binding: Hardcover Publisher: The Bobbs-Merrill Copany Date published: 1908

Description: Betts, Ethel. Good. Includes illustrations. Copyright 1900, Bobbs-Merrill Pub., this oversized pictorial hardback is in good condition with some wear around the edges, the colorful pictures are in good condition, the pages are clean and unmarked, the binding is very tight-libary binding, a good collectible copy! Thank you for supporting Lititz Nana-Promotion Queen! Read More

Gerald McBoing Boing: Based on United Productins of America

Binding: Hardcover

Description: Very good; Collectible. Copyright 1952, Simon & Schuster Pub., Based On United Productions of America's Academy Award-Winning Motion Picture, Pictures Adapted by Mel Crawford, early Dr. Suess, this pictorial hardback is in great condition with a small stain on bottom front and 2 stains on back cover, the pages are clean and unmarked with great illustrations throughout, the binding is very tight-library binding, this is a great collectible copy! Thank you for supporting Lititz Nana-Promotion ... Read More

McGuffey's Eclectic Reader (Set of 6) Primer-Sixth, Revised Edition (Set of 6: Primer; Second; Third; Fourth; Fifth; Sixth)

Binding: Hardcover

Description: Very good; Collectible. LAST COPYRIGHT DATE LISTED IN BOOK 6 IS-1921 BY HENRY H. VAIL, American Book Company Pub., -REVISED EDITION-SEVEN BOOK SET-PRIMER-6TH-WITH SLIPCASE (wear around slipcase), these books (as shown) are in good condition, with minor wear on corners, the pages are clean and unmarked-look unused, (except for gift inscription inside-to previous owner) the binding is very tight-library binding, a good collectible, informative set-great for homeschooling! Thank you for ... Read More

The Illustrated London News Diamond Jubilee Number 1897-Her Majesty's Glorious Jubilee 1897 a Record Number of a Record Reign

Binding: Paperback

Description: Reader copy. Copyright 1897, Illustrated London News Publisher, this over sized paperback stapled copy is in good condition on the inside-the front cover is missing, all other pages are included (a few loose and a few have small tears around edges) plus 12 full page colorful lithigraph plates of her majesty's reign (including a painting of her in 1837 and 50 years later in1887), a great collectible for someone who loves Queen Victoria! Thank you for supporting Lititz Nana-Promotion Queen! Read More

Edition: Reprint Binding: Hardcover Publisher: Bradley, Garretson & Co. Date published: 1882

Description: Fair. 454 p. Includes illustrations. copyright 1882, Bradley, Garretson & Co., Revised and Enlarged Edition, this oversized brown hardback with graphics has wear around edges (rubbed through on corners) sunning on spine and some light wrinkles on front and back, and gilting is faded, the pages have some foxing and water stains, there are b/w illustrations throughout, the frontispiece still has the tissue paper and it is a photograph of the original painting of The Holy Family by L. Knau, The ... Read More

Edition: First edition Publisher: Simon & Schuster, New York Date published: 2005 ISBN-13: 9780689853630 ISBN: 0689853637

Description: Sabuda, Robert. Fine. Pop-up book. 12 p. Includes Illustrations. Audience: Children/juvenile. copyright 2005, Simon & Schuster/Little Simon, STATED FIRST EDITION, FIRST PRINTING, this Pop-Up is in great condition with wonderful and elegant Pop-Ups throughout, the binding is very tight, a good collectible copy could be given as a gift! Thank you for supporting Lititz Nana-Promotion Queen! Read More

Little Critter Jack And The Beanstalk-A Lift-the-flap book

Edition: Special Edition for Kohl's Cares Binding: Hardcover Publisher: Sterling Children's Books Date published: 2010 ISBN-13: 9781454913849 ISBN: 1454913843

Description: Fine. No dust jacket. Includes illustrations. copyright 2010, Sterling Children's Books, Special Edition-for Kohl's Cares, this pictorial cover is mint, the pages are clean and unmarked and the Lift-the-flaps are in great condition, The binding is very tight, a good copy-could be given as a gif! Thank you for supporting Lititz Nana-Promotion Queen! Read More

Every Prayer and Petition in the Bible (the Everything in the Bible Series) Lawrence O. Richards

Binding: Hardcover Publisher: Thomas Nelson Date published: 1998 ISBN-13: 9780785212652 ISBN: 0785212655

Description: Very good; Collectible. Copyright 1998 Thomas Nelson Pub., FIRST EDITION, FIRST PRINTING, the dj (as shown) is mint, the pages are clean and unmarked (except for the previous owner's stamp inside) with illustrations throughout by Paul Richards, the binding is very tight-library binding, a good collectible informative copy! Thank you for supporting Lititz Nana-Promotion Queen! Read More

Picking Cotton: Our Memoir of Injustice and Redemption

Binding: Paperback Publisher: St. Martin's Griffin Date published: 2010 ISBN-13: 9780312599539 ISBN: 0312599536

Description: Very good; Collectible. Copyright 2009 St. Martin's Griffin Pub., first edition 2nd printing Jan. 2010, this paperback is in great condition, the cover (as shown) has very minor wear at corners, the pages are clean and unmarked (photos included), the binding is very tight, a great collectible copy! Thank you for supporting Lititz Nana! Read More
---